6G is expected to be no longer just a platform that connects everything but an intelligent platform that offers integrated sensing and AI services for consumers and industries to create greater social value. At the 2022 EuCNC & 6G Summit held in Grenoble, France, Huawei showcased its prototype of integrated sensing and communication (ISAC) for moving object with 3D tracking and non-intrusive 3D imaging with (Tera-Hertz) THz and optical wireless spectrum.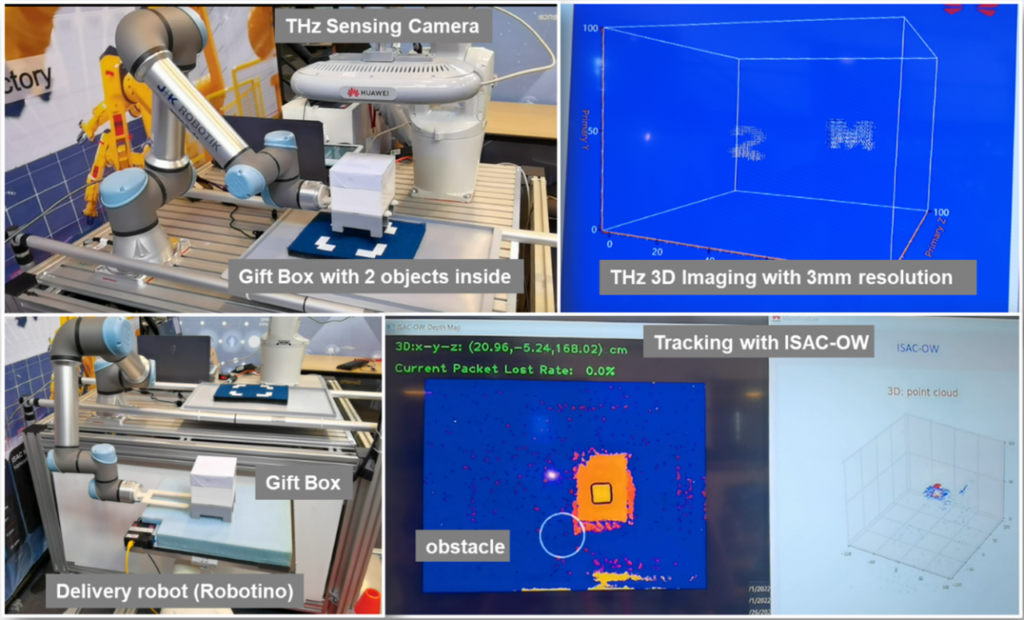 Digital transformation is the driver of the emerging intelligent connectivity, and applications such as interactive immersive experience, robots collaboration in unmanned factories, smart healthcare with real-time sensing, and autonomous driving on a large scale. However, this will require a significantly higher network performance, such as Tera-bit/s data transmission rates and millimeter-level sensing precision with wireless technology. With this in mind, Huawei has proposed and promoted the ISAC vision. In higher-frequency and higher-bandwidth scenarios, communications systems will natively integrate wireless sensing capabilities which can explore the physical world by analyzing radio wave transmission, echo, reflection, and scattering. As a result, communications systems will possess high-resolution sensing, localization and tracking, imaging, and surrounding digital reconstruction capabilities, which not only improve communications performance and unlock new network service capabilities but also lay a data foundation for building an intelligent digital world.
The ISAC prototype Huawei showcased at the 2022 EuCNC consists of two steps. In the first step, ISAC with Optical Wireless (ISAC-OW) is used to track a target carton paper box. The box is held by a delivering Robot called "Robotino" which carries the box to a target location, then a collaborative robot will take the box from Robotino and put it extremely precise right under a robot arm equipped with THz RF Unit. The optical wireless sensing system is able to detect obstacles on the path and based control of the robot movement and cooperation with the other robots in the setup. 3D coordinates of the target box and obstacles are transmitted to Robotino through optical wireless communication link. The real-time tracking processing is shown by the 2D and 3D point-clouds. In the second step, the robotic arm uses ISAC at THz (ISAC-THz) to scan and image the object in the closed carton box, imaging a future an automated quality control check point or a person holding a future mobile terminal with a THz camera. There are two metal characters "2" and "M" placed inside the box, and the 3D imaging results could achieve about 3 millimeter resolution, the 3D point cloud imaging as shown in the figure.
THz lies between the mmWave and infrared frequencies, and thus has millimeter-level and even sub-millimeter-level wavelength, making ISAC-THz system particularly suitable for high resolution sensing applications such as millimeter level resolution 3D imaging. Like the other lower frequency radio waves, THz can penetrate some obstacles, achieving high-precision sensing in all weather and light conditions. Noticeably, using the innovative radio architecture and higher-gain antennas, low-precision and low-complexity signal processing, Huawei announces a 4×4 MIMO THz communication prototype that has achieved a world first 240 Gbit/s outdoor transmission over 500 meters LOS air interfaces, proving that it is technically feasible to use THz for outdoor ultra-high-speed communications. More information could be found at 6G ISAC-THz Opens up New Possibilities for Wireless Communication Systems – Huawei.
The optical frequency band, on the other hand, includes both infrared and visible light spectrum, which has nearly unlimited spectrum resources available for high speed communication and ultra-high-precision sensing. In particular, since the ISAC-OW system does not generate electromagnetic interference to the various electromagnetic sensitive devices in operating rooms at hospitals, it can safely and friendly be used in medical environments. When further combined with spectrogram analysis techniques, ISAC-OW can also be conveniently applied to monitor daily health status such as number of heartbeats or breaths per minute in a contactless way. More information could be found at 6G ISAC-OW Extends the Frontier of Spectrum for Wireless Communication Systems – Huawei.
ISAC is an important future-oriented vision, and its applications are not limited to THz or optical wireless bands. Huawei is looking into the integration of ISAC into full spectrum research and looks forward to cooperating with partners in this field to make "Intelligence of Everything" a reality.
*** About Huawei
Founded in 1987, Huawei is a leading global provider of information and communications technology (ICT) infrastructure and smart devices. We have more than 195,000 employees, and we operate in more than 170 countries and regions, serving more than three billion people around the world.
Our vision and mission is to bring digital to every person, home and organization for a fully connected, intelligent world. To this end, we will drive ubiquitous connectivity and promote equal access to networks; bring cloud and artificial intelligence to all four corners of the earth to provide superior computing power where you need it, when you need it; build digital platforms to help all industries and organizations become more agile, efficient, and dynamic; redefine user experience with AI, making it more personalized for people in all aspects of their life, whether they're at home, in the office, or on the go.